AVC-1 Slagleformer Parts Package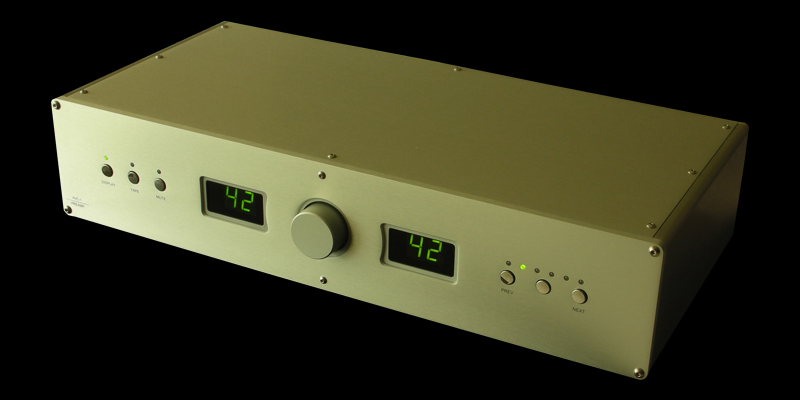 ---
Introduction
Please note: Due to an overwealming amount of OEM design work I have had to stop production of the AVC-1 and also stop selling DIY parts. If you have any existing products that need any modifications please still feel free to contact me to arrange any help you need.
The AVC-1 Parts Pack is a set of TAP Modules along with a matching project enclosure. Used together these make up an easy DIY project for building a full featured Slagleformer based passive pre-amp system for high end audio applications. It is suitable for a novice to advanced DIY builder - but it is not suggested as a first time project. Learning to solder on these expensive parts would not be the way to go! As long as you have basic DIY audio tools and are familiar with their use it will be a fun project that can be completed in a few hours time.
All the parts come pre-assembled and tested with only final wiring of the signal path required. Here are a couple photo's showing the inside of the pre-amp parts package as it is shipped from our shop: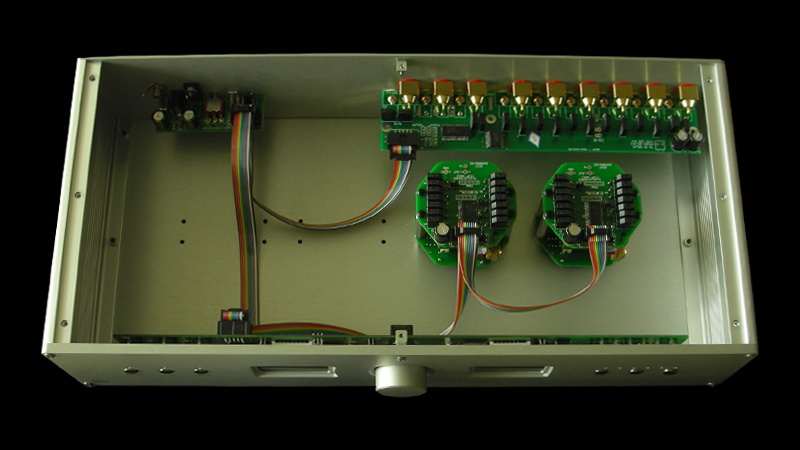 ---
Here is a list of parts included with the AVC-1 Parts Package
New Silver AVC-1 Enclosure c/w all hardware
Assembled and tested Full Width Front Panel PCB
2 Assembled and tested Slagleformer Modules
Assembled and tested 6 input Back Panel RCA Board
Assembled and tested Back Panel Power PCB
13 Button Full Function Bent Metal Remote Handset
OCC copper wiring for final connections (or choose any flavor wire you like)
Once complete your AVC-1 pre-amp will have many features but it is important to note that NONE of these features in any way complicates the signal path. The signal path is very clean and direct, 100% passive, and only the finest components are used throughout.
AVC-1 Features:
61 1dB Level Steps from mute then -54db on up to +7db
More level steps than any other TVC/ AVC pre-amp!
Automatically engages gain mode as volume increases above unity gain
Remote Control of Level, Balance, Input Select, Mute, and Display On/Off
Front Panel Control of Level, Input Select, Mute, Tape, and Display On/Off
Tape Output
100% passive using top quality Slagleformer Modules
Any Input(s) can be programmed as HT (volume lock) Input via back panel button press
Dual RCA Outputs
6 RCA Inputs
Custom 13 button Bent Metal Remote Control Handset
Display Dark setting for HT or dark listening
AVC-1 Performance:
Extreme quality Pickering sealed relays rated for billions of operations
Modular Design for minimum internal wiring keeping the signal path very clean
A Minimum of Mechanical Parts - Maintenance free operation
Optical Encoder Level Control rated for millions of operations
Entire Control System enters sleep mode after each command - NO clock noise
AVC-1 Pre-amp Specifications
Bandwidth: Below 10 Hz to over 100 Khz ( +/- 1db)
Channel to Channel Matching: Closer than +/-.05db
THD: < 0.0008%
61 Level Steps (from -54db to +7db and Mute)
Step Size: 1db
Maximum Input Level: > 10V rms
Tape Outputs: 1 RCA (6 input version only)
HT Bypass Inputs: Any of the 6 inputs programmed as HT via button press
Size: 17"W x 10"D x 3-1/2"H
---
At the heart of the AVC-1 pre-amp are the 'Slagleformer Modules'. These autoformer volume control (AVC) modules keep the signal path very short and clean. Each channel has only 3 short internal connection wires. All other level select functions are part of these small self contained modules - no more 'rats nest' of wiring!


---
The AVC-1 pre-amp was designed from the ground up to be fully remote controlled. This ground up design allows the remote to be integrated into the AVC-1 without any sonic compromise.

Bent Metal Remote Handset


---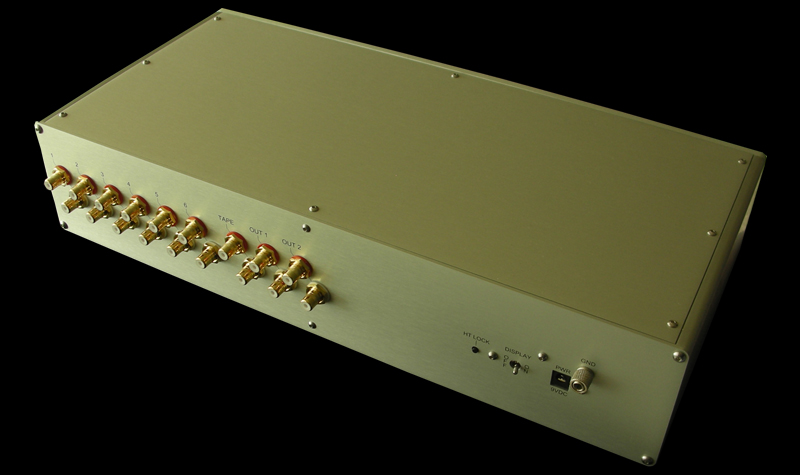 6 Input RCA AVC-1 Rear View


---
Note: Both 120V and 230V supplies are available - please specify when ordering


---
Please e-mail or call for pricing on configurations not listed here. I am happy to discuss your specific requirements any time.



---
Enjoy The Music Review of the new AVC-1 Slagleformer pre-amp project
---
AVC-1 Manual Download
---
Payment
All Prices are in US funds. We accept Paypal, Wire transfer, money orders or personal cheques (must clear before shipment).
Shipping
Prices do not include shipping. We ship via expresspost (trackable and insured). AVC-1 shipping to USA destinations costs $80. The Components are all carefully boxed to make sure they arrive safely and ready to enjoy. Please call for shipping rates to other destinations.


---